Keith and Michelle, the owners, are the young couple behind this two-month-old stall. They used to be in the recruitment industry before starting this stall. The recipe is obtained from a childhood friend, and this same friend is also the supplier of those handmade fish dumplings, fishballs, and meatballs, using yellowtail fish to make them.
There are 3 sizes for selection, the $3, the $4 and the $5 but only the $5 is served with the fish dumpling. I decided to go with the $5 portion and opted for dry mee pok. Michelle asked, "Do you want it with meatball or fishball as we have run out of fish dumpling." I replied, "Meatball then." Michelle actually made an effort to smile and looked at you when she was taking the order. When I was attempting to take out a tray from the stack of trays, She said, "Let me help you." When I was picking up the tray after Keith placed the bowl of noodles along with the bowl of soup on it. Michelle turned and said, "Thank you." And, that actually left an impression when compared to a not so pleasant encounter when ordering the popular Xiao Di Fried Hokkien Mee in the same coffee shop.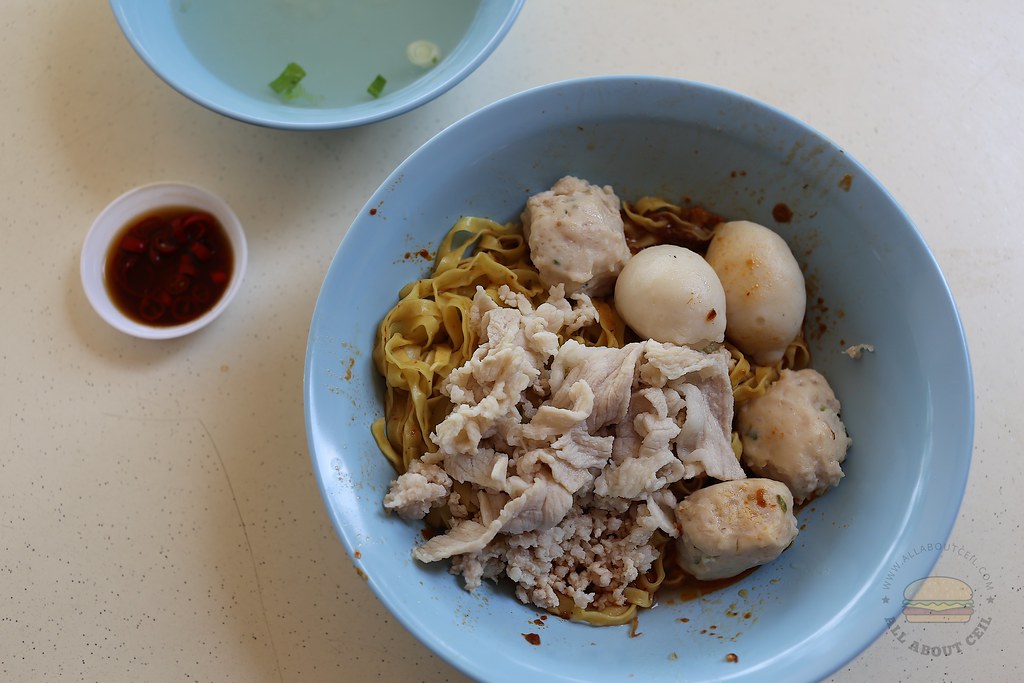 My dining companion tried it first, he took a few mouthfuls and said, "This is quite good." I tried it and asked, "Does that remind you of Song Kee Fishball?" He replied, "A little. I find the taste of the meatballs to be quite familiar but could not actually recall where did I taste it." The noodles were nicely cooked and the texture of those fishballs is good, it has the desired springiness, different from those that are commercially mass-produced. The meatballs consist of pork and yellowtail fish paste and we liked it. The crispy lard and chilli are also handmade by them.
The wait is slightly longer when I was there on a Sunday but the wait is quite worthwhile for this simple goodness. I could sense the high amount of passion and sincerity behind this bowl of noodles.
PIN JI FISHBALL MINCED MEAT NOODLES
Block 153 Serangoon North Avenue 1 #01-512 Guan Hock Tiong Eating House Singapore 550153
Operating Hours: 7.00 am to 1.30 pm