I just happened to be there on a rainy day and wanting something comforting like a hot bowl of porridge. There was a queue of few people right there at this stall and it prompted me to give it a try for the first time.
Some of the choices available are Century Egg & Lean Meat Congee ($3.50), Pork Congee ($3.50), Meatball Congee ($3.50), Mixed Pork Congee ($4.00), Pig's Liver Congee ($3.50), Chicken Congee ($3.50), Sliced Fish Congee ($3.50), Congee in Boat Style ($5.00) and Mixed Scallop Congee ($5.00). Frog's Leg Congee in claypot are at $7.00 and $12.00.
The side dishes for selection are Frog's Leg ($8 and $14) and Pig's Liver ($5 and $8) served with Dried Chilli, Ginger and Onion in claypot. There are Raw Fish at $3, $5 and $8 together with Homemade Beancurd at $3 and Beancurd with Spicy Sauce at $3.
I decided to go with Mixed Pork Congee with the smallest serving of Raw Fish.
A good portion of porridge garnished with a handful of chopped spring Onion and dried shallots served with a single piece of You Tiao.
The You Tiao that came along was still warm with a crispy texture unlike most of the stalls out there that did not bother to make such an effort. The best way to enjoy the You Tiao is to dip it into the congee slightly then eat it. It is as good as dipping it into the coffee, the rather old school way of enjoying it taught by my dearest Grandpa.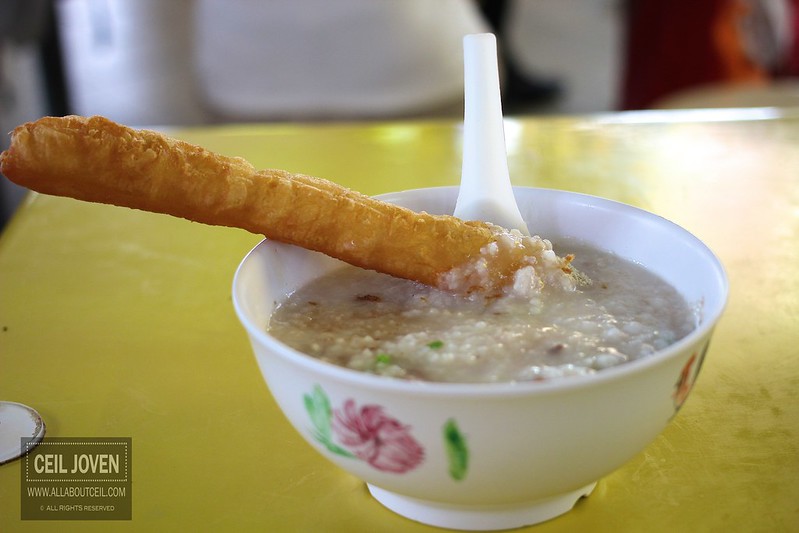 The Congee is the typical Cantonese style with the rice grains nicely broken up made by a long cooking process.
I was delightful to find generous amount of ingredients like slices of liver, small intestine and lean meat in it. This is indeed a value for money bowl of Congee that so hard to find these days.
Though it was the smallest serving Raw Fish but it came with a good amount of sliced fish together with shredded ginger, shredded lettuce, coriander leaf then garnised with dried shallots served along with cut chilli by the side.
To start is to mix all the ingredients well with the sesame oil and the sesame seeds to give it the desired flavor.
The raw fish was sliced perfectly to give it the nicely thin texture. It tasted delightfully when it was tossed well to coat with the bits of sesame seeds and dash of sesame oil. The taste was further enhancing by squeezing and mixing in the lime.
It tasted even better when it was eaten with bits of shredded ginger and shredded lettuce with the coriander leaf.
I dare say this is the hidden gem right at this Food Centre. Simple fare but served with passion to ensure the delivery of best quality coupled with fresh ingredients.
I know i will definitely be back to try the others on their menu.
Block 209 Hougang Street 21 #01-28 Kovan Food Centre SINGAPORE 530209.